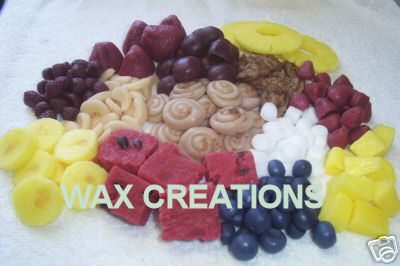 Alaskan Wilderness~ Fresh cut pine
Apple Brown Betty~More complex than plain Hot Apple Pie this rich Apple Dessert will become an all time favorite.
Apple Butter Caramel ~ McIntosh apple, steamed milk, pure sugar, caramel candy, toffee pudding, apple butter, fresh nutmeg and vanilla bean.
Apple dumpling~Our apple dumpling fragrance is the aroma of freshly-baked apple dumplings.
Apricot~ Fresh ripened apricots
Autumn magic~ Lemon, apple, anise, cinnamon, ginger, musk and vanilla.
Autumn wreath~spicy warmth of autumn leaves, cinnamon apples, nutmeg and clove.
Baby Powder~ Just like a baby
Bahama Fizz~ Tropical blend of pineapple, papaya, mango, sweet coconut and sugared vanilla
Banana Cream~ Creamy banana pudding
Banana Nut Bread~ Ripened sweet bananas with nutty undertones
Berries & Cream~ Fruit & cream
Berry Bewitching Brew ~Peach,apricot,blackberry,mandarin,cinnamon,rose and a hint of musk
Blackberry Jam~ A mixture of ripe & tart blackberries
Black Cherry~Ripe sweet black cherries
Black Raspberry Vanilla~ Blackberries - raspberries - musk - vanilla. BBW type
Blueberry~ True blueberry scent
Blueberry cheesecake~Cheesecake with the goodness of blueberries
Blueberry Muffin~ Juicy blueberries mixed with buttery muffin
Bubble Gum~ Sweet juicy bubble gum
Butter Brickle~ A creamy blend of almond, vanilla, butter.
Buttercream~ Buttery, buttercream frosting
Butterscotch~ Just like the butterscotch candies
Butt Naked~ Apples - melons- strawberries - pears
Cafe caramel~Aroma of fresh-brewed cappuccino, filled with heavy cream, and sweetened with sugary caramel.
Candy Cane~ Think Christmas peppermint candies
Candy Corn~ Halloween treat
Cantaloupe~ Ripe juicy summer cantaloupes
Cappuccino~ Fresh brewed coffee with heavy cream and sugar
Caramel Popcorn~ Freshly popped popcorn with rich creamy buttery caramel
Carnation~Freshly picked carnation flower
Carribean~ Coconut-pineapple-vanilla ice cream
Cherry Kiss~ Fresh tart red cherries
Cherries on Snow~ Festive fruity scent of ruby red cherries, cool & fresh winter mint & spun sugar
Chestnuts & Brown Sugar~ Roasted chestnuts & sweet brown sugar
Chocolate cheesecake~ Cheesecake with the gooey smell of chocolate
Chocolate Chip Cookie~ Bakery fresh chocolate chip cookie
Chocolate mint- Deep chocolate & sweet mint
Christmas cabin~ Bayberries, cranberries, cinnamon and orange zest.
Christmas Memories~Orange, cranberry, cinnamon sticks, clove, evergreen, pinecones.
Christmas splendor~ Apples, oak, balsam, fur, pine, cinnamon and clove
Cinnamon & Brown Sugar~ Spicy cinnamon & sweet brown sugar
Cinnamon vanilla~ A blend of cinnamon & creamy vanilla bean
Cinnamon Bun~ Smells like you went to the bakery
Cocktails by the pool~Lemon-orange-honeydew-pear-pineapple-nectarine & more
Coffee~ Fresh brewed coffee
Country Bumpkin~ Apples - yams - marshmallows - creamy butter - brown sugar - nutmeg - cinnamon & clove
Country christmas~bayberries, cranberries, and apples, with spicy nuances of nutmeg and cloves with a top note of orange zests.
Country Clothsline~Smells identical to Downy's original fragrance
Cranberry~ Fresh tart cranberries
Creamy caramel~ Buttery caramel
Creme Brulee~ Creamy vanilla custard pudding drenched with buttery caramel sauce
Crystal Blue Waters~ Hyacinth - hydrangea - lily of the valley - fern -vetyver - cyclamen
Cucumber Melon~ Sweet/sour cucumbers - honeydew melon
Dreamsickle~ Icy orange popsickle with creamy vanilla filling
Dried Apple & Cinnamon Stick~Apple core with sharp cinnamon stick
Freesia~ Fresh freesia flowers
French Vanilla~ Sugary vanilla aroma with just the right amount of fresh brewed coffee
Fresh Fruit Slices~ A fruit salad of fresh orange-apple-strawberry-grapes and coconut
Fresh Squeezed Oranges~ Freshly squeezed oranges
Frosted Lime Cupcake~ Frosty limes & vanilla cupcake
Frosted Pinecones~ Blend of herbaceous pine, spruce, spices
Fuzzy Navel~ A blend of fresh oranges and ripened peachs
Gardenia~ A blend of gardenia & jasmine
Gingerbread~ Spiced cookie with vanilla-nutmeg-cinnamon-ginger
Graham Cracker~ Just like you get at the store
Green Apple~ Tart green apples
Happy holidays-Blend of cinnamon spice, baked apples, vanilla, cream & berries
Hawaiian Punch ~Our hawaiian punch will bring back memories of childhood
Hershey Chocolate~ Rich creamy chocolate
Holiday Pomegranate~pomegranate, sparkling citrus, dewberry, blackberry, iris, jasmine, sheer musk, sandalwood, and red cassis.
Honeydew Melon~ Ripe honeydew melon
Honeysuckle~ Honeysuckle-rose-jasmine-lilac
Hot Baked Apple Pie~ All the goodness of baked apples - spices - crust
Ice capades~ Lemon, peppermint, and spearmint; a warm middle note of buttercream; and base notes of vanilla and menthol.
Jack Frost~ Crisp peppermint with vanilla
Japanese cherry blossom~ Well-rounded blend of pink Japanese cherry blossoms and fragrant mimosa flower petals
Jolly Rancher~ Hard jolly rancher candies
Lavender~ A true lavender
Lilac~ Just like a freshly blooming lilac bush
Love spell type~ Mandarin oranges-bergomot-tangerine-peachs-strawberries-raspberries
Magnolia~ Blooming petals of a magnolia tree
Mango Papaya~ Ripened mango and juicy papaya
Mango peach salsa~ Mangos, peachs & other wonderful fruits
Mardi Gras~This fragrance is sure to jazz with your customers!
Margarita~Image smelling the tropical drink
McIntosh Apple~ Crisp, juicy McIntosh apples
Muscadine~ Sweet/sour grapes
Ocean Mist~ Like surfing in the ocean
Orange sherbet~Fresh oranges & a hint of vanilla
Orchid Rain~ You will be tantalized by the unique combination of fresh orchids, peony, water lily, watercress, aloe vera, and bamboo
Paradise Reef~ Deep sea diving in a salt water reef
Peach~ Juicy fresh ripened peach
Peachs n Cream~ Sweet juicy peachs with a hint of vanilla cream
Peanut Butter Cookie~ Aroma of baked peanut butter cookies
Pear Berry~ Blend of pear-raspberries-strawberries-gooseberries
Pina Colada~ Sweet pineapple & coconut
Pineapple Punch~ Ripe pineapples
Pink Sugar~ A fruity blend of cotton candy, lemon drops, caramel and raspberry jam on a dry down of musks
Pumpkin Spice ~ Aroma of sweet cream pumpkin, complimented with nuances of nutmeg, cinnamon, clove, and ginger; rounded out with buttery vanilla notes
Pumpkin Pie~ Sweet creamy pumpkin-nutmeg-cinnamon-clove-ginger-vanilla
Raspberry~ Fresh ripe juicy raspberries
Red Hot Cinnamon~ Red hot cinnamon candy
Sex on the Beach~ Peachs-oranges-cranberries
Sleigh ride~Pine, apples and cinnamon, bayberry, holly, and a hint of vanilla
Snickerdoodle~ Baked aroma of french vanilla - cinnamon sticks-gingerbread-maple syrup
Strawberry cheesecake~Cheescake with nice thick strawberry sauce
Strawberry Jam~ - Ripe juicy strawberries
Strawberries & cream~ Juicy strawberries and whipped cream
Strawberry & champagne~ Blend of red fruits - lilly of the valley-apple cider
Strawberry Peach Smoothie~Fresh peachs and strawberries drenched in vanilla ice cream
Strawberry Shortcake ~The aroma of buttery vanilla cake with notes of freshly sliced strawberries
Sugar Cookie~ Just baked butter cookie
Summer Breeze~ Just like GAIN detergent
Sweet Pea~ English sweet pea flower
Torrential Rain~Down-to-earth freshness. Torrential rains fragrance begins with top notes of bergamot, clementine, and grapefruit; followed by middle notes of jasmine and rose; well-rounded with base notes of patchouli, sandalwood, and oakmoss.
Tranquil Oasis~ Pamper yourself with this luxury spa fragrance that soothes the senses and rejuvenates the soul. A refreshing blend of cool citrus notes of satsuma and verbena, followed by rich French jasmine petals and salty sea notes, and rounded out with exotic musk and oriental bamboo.
Tropical Blast~ Pineapples-mango-papaya-coconut & watermelon
Vanilla Cream~ Wonderful creamy vanilla
Vanilla Grapefruit~ Creamy vanilla & grapefruit
Victoria Rose~ A true strong rose scent
Warm Vanilla Sugar~ Warm creamy vanilla / musky
Watermelon~ Just picked fresh watermelon
Wild Berry~ Cherries - blueberries - raspberries
Winter Candy Apple~crispy apple, pineapple, and zests of orange; followed by middle notes of neroli and cinnamon; embodied with base notes of sandalwood, fresh musk, bamboo, and patchouli.
Winter Wonderland - Cinnamon,clove,citrus,balsam,nutmeg,allspice